Platform6
Enwezor
"Being Different is Beautiful" – An Obituary for Okwui Enwezor
Close
"Being Different is Beautiful" – An Obituary for Okwui Enwezor
"Being Different Is Beautiful" – this is what Okwui Enwezor embodied. On the occasion of his death, I will attempt to give my account of a collaboration between artist and curator. "Being Different Is Beautiful" – this sentence came up in a conversation I had during fieldwork with First Nation residents from Saskatoon, Saskatchewan, Canada.

I think this quote applies to what Okwui Enwezor lived for and addressed in art, because Okwui was Different and he was Beautiful. Okwui demonstrated being different through his own very unique understanding of art, his humor, his confidence in the power of art, his sensitivity, his vision of boundary-breaking art, his elegance. I was always delighted by his elegance – and I'm not referring to his clothes – which I understood as a promise, a promise of the unique power of art and how extraordinary it can be.

I also admired his natural authority, his view of reality, his willingness to act within it, and his irresistible charm. He exemplified being different, alongside and in his outstanding ability to create unforgettable exhibitions that were definitive statements and have gone down in art history. His humor – which he gladly and liberally used to make any unanswered questions of a practical nature less dramatic – had a disarming effect. His humor always created an openness towards those around him and an invitation to involve them. Getting to work with him was an incredible experience for me and I want to describe from my perspective what was unique about it.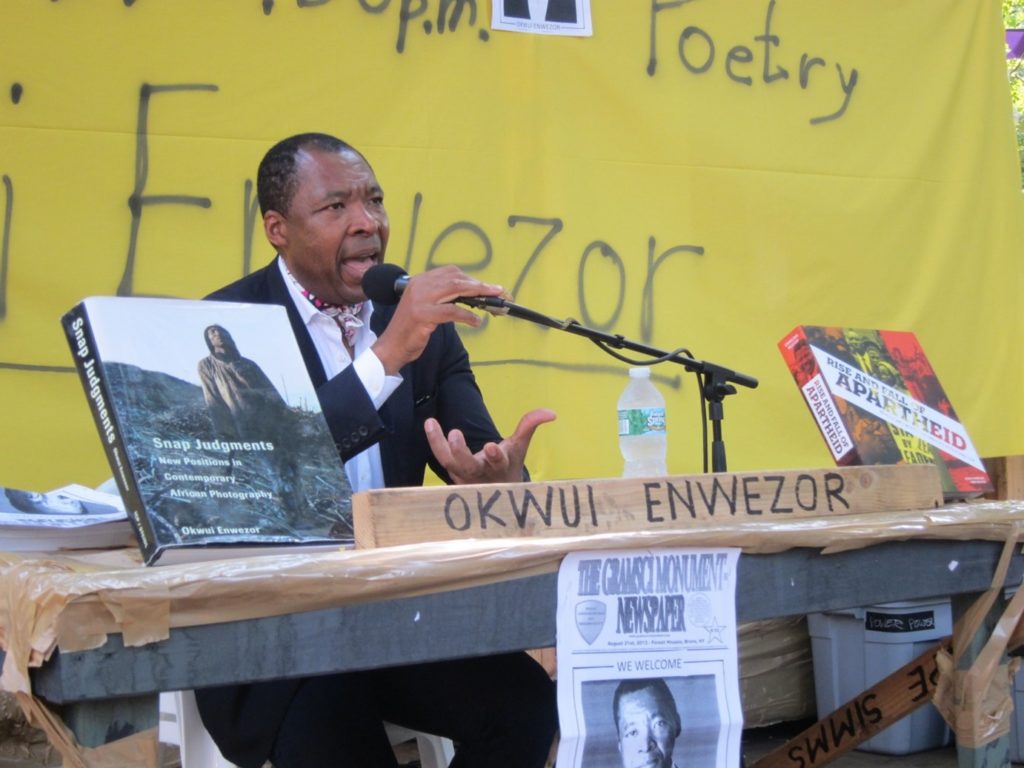 First, there was his tremendous confidence, his self-confidence but also the confidence he had in artists and their work. This confidence, transmitted in a calm and certain way, in turn gave the artist confidence in their work. Being able to feel the trust of the curator towards the artist and their position was the most beautiful and – for me – the most important thing. Okwui was not afraid when it came to art, not of the artist and not of the art critics, and certainly not of the art market. Above all, he was not afraid of the art of the artists with whom he worked, because he knew that there is no security, no certainty, no guarantee, and no safety railing when it comes to art. But with his confidence in an exhibited work, he utilized this exact uncertainty, this fragility, this precariousness as strength, a strength that his exhibitions always had. Okwui had an almost unlimited knowledge about art, poetry, philosophy, politics – which impressed me very much, as it likely did everyone who worked with him – and gave him a mental edge. Never did Okwui come with any cultural-nationalistic, petty, critical, or skeptical questions. He knew what he was doing, he was confident in it and his decision to exhibit a particular work always made sense. I never experienced there being any debate or argument with him about his choices. When I say this, I don't mean that there was no exchange or no questions and answers, but that discussions with Okwui weren't overly fixated on reasons or facts, rather – and this is what was so superior – the exchange was based on a fundamental understanding between curator and artist. This understanding was always based on the confidence in his decisions. I thought and I think this is how an ideal, real collaboration between artist and curator must be: as it was with Okwui, with complete trust.
When Okwui decided on a work, you would receive a text about the exhibition project, in which the curator would summarize his thoughts about the planned exhibition. These texts were always strong and consistent, they were charged with intellectual coherence and with a poetic dimension from which you could tell that Okwui was a gifted poet. His texts were illuminating because he always knew how to shed new light on connections, using the works of art as tools to do so: as tools to deal with the times we live in, as tools to confront reality, and as tools to get to know the world. His exhibition texts were so clear and precise that they gave you a genuine desire to be involved and to confirm your participation. For me, that was never in question anyway. His texts gave you the drive to participate, and support as it all took shape. To be invited by Okwui Enwezor meant that you could contribute to something important, new, and organic. Organic because his exhibitions were alive, like a breathing body, but also because Okwui would move or reposition works in an exhibition right up to the last moment – with clear insight and with trust in his instincts. In each case, the result was convincing because his approach was right. I very much appreciated his relaxed and at the same time concentrated presence during the installation period. It gave you courage as a participating artist, it gave you hope. Like his texts, his opening speeches were full of creative power and the illuminating power of words, they were clear statements of his position.
He knew – instead of explaining – how to mobilize, to the extent that you waited eagerly to go on the experiential "art journey" of his exhibitions. Okwui found freedom in being different, in that which was different, and at the same time he believed in equality. I remember how he always took assistants seriously and treated them with respect. Okwui understood and exemplified that it is about working together. He showed me that everything is important, that everything counts, that everyone is important, and that there is nothing unimportant. Again, "Being Different is Beautiful". Something sublime and regal emanated from Okwui, something he uniquely fused with commitment, his commitment to the arts.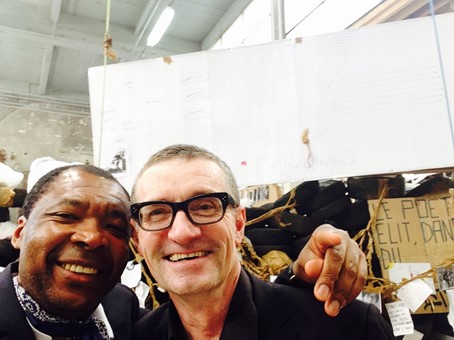 Okwui was proud and dignified, he embodied the dignity of a human being, art establishment aside. He understood and knew what it means to be alone, and he never gave up his dignity and pride. He was strong, vulnerable, and wise. Okwui once said this sentence to me, which I will always remember: "There is a time for work and there is a time for celebration." To which we must now add, "And there is a time for sadness".
Thomas Hirschhorn, April 2019
Thomas Hirschhorn's contribution "'Being Different is Beautiful' - Ein Nachruf auf Okwui Enwezor" was translated into English for Platform6. The original German version was published on the following website:
http://www.thomashirschhorn.com/being-different-is-beautiful/